My name is Maura Hirschauer and I am a candidate for the Illinois House of Representatives in the 49th district. My husband and I are residents of Batavia, and are proud parents of three children. Prior to moving to the area, I was an elementary school teacher. Over the past six years, I have volunteered as a Girl Scout leader for my daughter, as well as on the executive board of the Batavia Mothers' Club Foundation, a philanthropic organization that supports charitable efforts for women, children and families in the Fox Valley area.
I am not a career politician. I am a mother, a former elementary educator, and a community activist. I found my voice advocating for change as a leader of my local Moms Demand Action for Gun Sense in America group. Raising my voice – whether it be to keep guns out of our schools, or strengthening our federal background check laws – has become a way of life. Advocating for common sense gun reform drove me to pursue change on a larger scale. My commitment to education, dedication to community service, and strong belief in advocacy have led me to this moment. I am excited to bring empathetic leadership to the Illinois statehouse and to work hard for the people of the 49th district.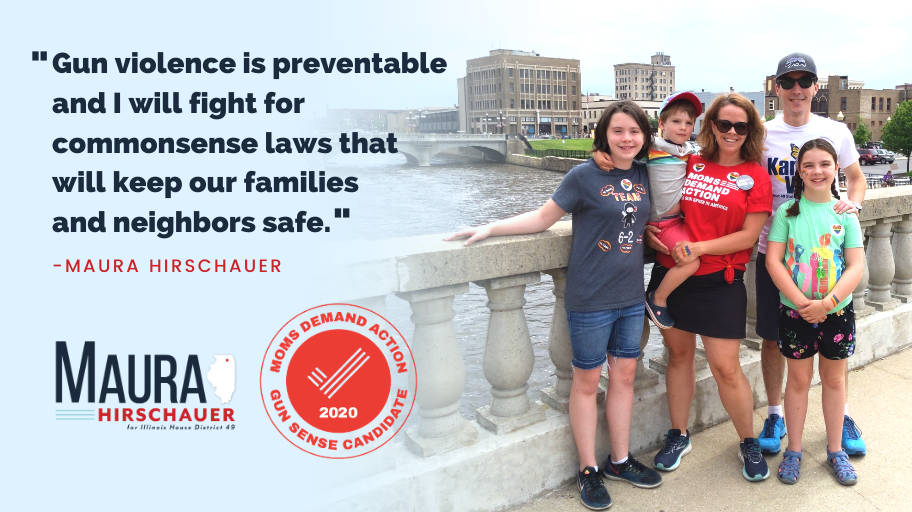 I support the Fair Tax Amendment that will be on our November ballots. Our current tax structure is unfair and inadequate. Moving towards a fair tax is the most equitable way to address our state financial crisis while preserving and improving funding for the necessary services that Illinoisans value, like public education.
The economic, physical, and emotional impacts of the COVID-19 pandemic will long be felt throughout our state and country. Together, guided by the priorities that we hold dear, we can rebuild our communities to be strong, equitable, and inclusive. With dependable leadership in Springfield we will ensure that every Illinoisan has access to quality healthcare, including mental healthcare. We will expand paid family leave, and medical and parental leave, improving the quality of life for families across our state. We will fix our antiquated tax structure and guarantee that our public schools get the funding and resources they need to thrive.
I will fight for these ideals in Springfield. I will bring your voice with me to our state's capital. I look forward to getting to know you over the coming months. Our grassroots campaign is community powered, join us! Team Maura would love to have you! It will take all of us to be successful in November.
Please check out our website at www.votemaura.com, follow us on Facebook (@vote4maura), Instagram (@votemaura), and Twitter (@votemaura).