A Salute to Women Past and Present
Welcome to the July issue of a Salute to Women Past and Present. Some commentary on women and the power of their vote.
"Women Are Ready to Reshape America by the Power of Their Vote."
Women are poised to be the decisive answer to turning the vote blue this November, and we support some of the same causes whether we are young or old, rich or poor. Whether your passion is to protect the environment, ensure healthcare is not just affordable and accessible but a right for every citizen, or support equitable wages that reflect merit instead of gender or race; the stakes have never been higher. Educating your kids or grandchildren for the 21st century is more important than ever. And teaching them to vote and be active participants in the community will bring about change that affects all of us: both young and old.
As caregivers, mothers, sisters, aunts, or grandmothers; women have nurtured and carried their families through good times and bad. Today, let's unite to be that burning torch in the darkness and let our light shine. Let's do our part by helping to ensure we get out the vote.
The July newsletter features the next three of fifteen member candidates running for office. Do you live in their district? If so, consider volunteering to get them over the finish line.
This month our Women Past and Present biography features Alice Paul – a vocal leader of the twentieth century. It is written by Linda Willet. Our public relations/marketing committee hopes readers will enjoy learning about Paul's story.

Featured Biography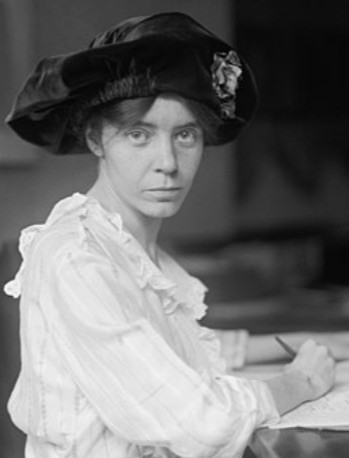 Alice Paul was a suffragist and one of the main leaders of the campaign for the adoption of the Nineteenth Amendment, which granted women the right to vote. Alice was born in 1885 to a prominent Quaker family in Pennsylvania that believed in gender equality, service to others, and voting rights for women.
After working in NY, Alice decided that social work was not radical enough to bring about social justice. She left to study in England where she met Lucy Burns. They both joined the suffrage movement led by the Parkhursts where they learned protest tactics, including picketing and going on hunger strikes when arrested. Read more >
---
Legislative News
The next three of fifteen candidates running for Kane County elected office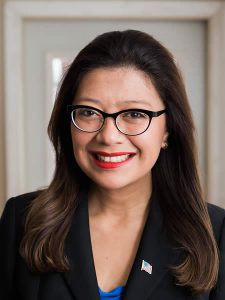 Karina Villa
Born and raised in West Chicago, Illinois, Karina Villa is a lifelong resident of Illinois' 25th senate district. On November 6, 2018, she was elected to the Illinois House of Representatives for the 49th district. Throughout the 101st General Assembly, Karina has repeatedly demonstrated her passion as an advocate for students and families furthering her strong record of service to the community.
Karina earned a master's degree in social work from Aurora University. She became a school social worker and has worked in the West Chicago and Villa Park school systems. Karina has strong family ties. She and her brother are children of immigrant parents who are small business owners in the community. The family grocery store was a place for people to get assistance, advice, and job referrals. It was there that she learned social responsibility and hard work are integral to any undertaking.
Prior to being elected to the Illinois House of Representatives, Villa served on the West Chicago District 33 Board of Education since 2013. As the school board vice president, Villa's knowledge and leadership led to improved programming in the schools, including full-day kindergarten and dual-language programming. She worked with the board to maintain a balanced budget for the school district, while negotiating equitable teacher contracts and providing increased services to students.
Karina uses her professional background, leadership, and life experience to collaborate through compassionate conversation. She is committed to listening to the voices of her constituents and ensuring effective representation. She prides herself on the ability to find commonality and understanding with those having different points of view and strives to build relationships upon that commonality. Find out more about her Illinois State Senate 25 District candidacy.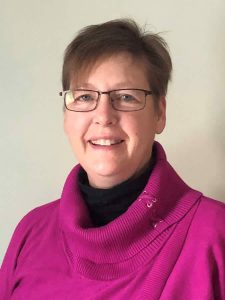 Ruth Kuzmanic
Ruth Kuzmanic is a District 12 Kane County Board candidate who recently retired from public education. She lives in St. Charles, Illinois with her spouse and three young adult children.
Ruth brings a supportive voice to the community, where she has lived and raised a family. Kuzmanic is committed to representing the people of Kane County and will devote her time and energy to the concerns of residents.
She holds a Master's Degree in Education from Northern Illinois University and a Bachelor's Degree in Education from Illinois State University. Over the course of her tenure as an educator she has held roles as a middle school coach and high school basketball and soccer coach. Ruth excelled as a leader during her time as a high school Health teacher, serving on curriculum and assessment committees. Find out more about Ruth.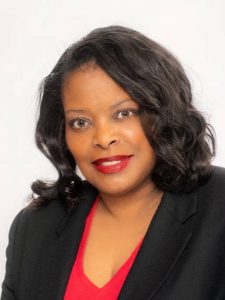 Brenda Rodgers
Brenda Rodgers is a candidate for Kane County Recorder. For over thirty years Brenda has served to make the community a better place: as a realtor helping families find that perfect home, and leveraging her management and leadership skills, leaning in to serve with several organizations. She has one adult daughter.
Rodgers is running to make community security a priority with a commitment to serve the needs of her constituents. Brenda brings responsive leadership, values community ideas, is fighting for the interests of Kane County and will earn the trust of the community.
Brenda is a managing broker in residential real estate and received a Bachelors degree in Management and Leadership from Judson University, Elgin, Illinois. To find out more about Brenda visit her website.
---
Book Reads
Our KCDW marketing committee has selected a few books to stir your activism hearts:
Dream City: Democracy in One Book or Less
author: David Litt
HarperCollins Publisher
Separated: Inside an American Tragedy
author: Jacob Soboroff
Custom House
Between Homeland and Motherland
author: Alvin Tilley
Cornell University Press
Begin Again: James Baldwins' America
author: Eddie Glaude, Jr.
Crown Publishing Group
His Truth is Marching On
author: Jon Meacham
Random House Publishing Group
---
Quote of the Day
Great minds discuss ideas. Average minds discuss events. Small minds discuss people.

– Eleanor Roosevelt
---
Important Dates
July 29, 2020
KCDW Candidate Action Committee
ZOOM Post Card Writing Event on Facebook Live!
For more information email: kanectydemwomen@gmail.com
or go to the KCDW facebook page!
Next KCDW Meeting
The next Virtual meeting of the Kane County Democratic Women will be on Wednesday, August 26, 2020.